GRADUATE STUDENT
BENDER, Irene M.A.
(Post-doctoral fellow at CONICET)
Interactions between consumer and resource species are organized in complex ecological networks. In my research, I aspire to disentangle the largely unknown mechanisms leading to the formation of interaction networks, and improve the understanding of the ecology of mutualistic interactions between species. In my current project, I am testing various factors that influence consumer selection of resources, specifically between frugivores and fleshy fruited plants. I aim to determine the relative importance of the abundance of fruits, nutritional values of fruits, and morphological traits relevant for seed dispersal for the formation of interactions. In addition, I aim to discern to what extend frugivorous species are able to realize their feeding preference in a natural environment.
  〈 RESEARCH GATE 〉    〈 GOOGLE ACADEMIC 〉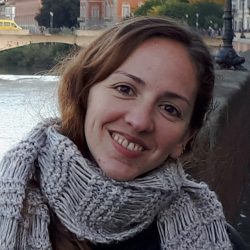 FERNANDEZ, Romina Daiana
(Post-doctoral fellow at FONCyT)
My research focuses on the ecology of biological invasions, mainly in plants. I am a member of the team of experts in the IPBES global assessment of invasive alien species and their control; specifically, I participate in the global synthesis on the environmental, economic and social impacts (negative and positive) of these species. In my new postdoctoral project I will evaluate the underlying patterns of livestock de-intensification and its link with the invasion of exotic plants in northwestern Argentina.
   〈 RESEARCH GATE 〉    〈 GOOGLE ACADEMIC 〉
GANDOY, Facundo Ariel
(Post-doctoral fellow at CONICET)
As a birdwatcher, I am interested in all aspects of the natural history of birds. However, my research line focuses on the processes of colonization of new environments. This is an area of growing interest due to the increasing change in distribution caused by introductions and climate change. During my postdoctoral period at the IER I will be specifically studying the colonization of Barn Swallow in Argentina, trying to understand the causes of population growth and the possible presence of micro-evolutionary changes due to the interaction with a new environment.
 〈 RESEARCH GATE 〉 〈 GOOGLE ACADEMIC 〉
MANGINI, Giselle
(Post-doctoral fellow at CONICET)
Nature is not only composed of isolated individuals or species but rather by a cluster of interactions occurring at the same time. Based on this premise I became interested in understanding how different bird species interact between them in associations known as mixed flocks of birds. I decided that understanding how different bird species interact between them to obtain benefits was the first step in achieving the utopia of humanity relating positively to other species. Thus, after my doctorate I continued to investigate mixed flocks of birds to understand how the effects of habitat loss influence the delicate relationships between bird species that inhabit the Yungas forest environment in Argentina.
  〈 RESEARCH GATE 〉    〈 GOOGLE ACADEMIC 〉
ROJAS, Tobías Nicolás
(Post-doctoral fellow at CONICET)

I am interested in ecology and evolution of mechanisms that promote interactions between plants and animals. At the time, I am working on plant-seed disperser interactions, specifically trying to answer which fruit traits are more important for shaping fruit consumption by frugivores.
  〈 RESEARCH GATE 〉    〈 GOOGLE ACADEMIC 〉
---
DOCTORAL FELLOWS
ANDRADA, Franco D.
(PhD fellow at CONICET)
I am interested in the study of interaction ecology, particularly in the study of plant-animal interactions, and how different environmental variables can modify these interactions. The objective of my thesis is focused on plant-pollinator interactions in the ecosystem "Monte" of northwestern Argentina, on an altitudinal gradient, where I will try to clarify how environmental variables which are expected to change with climate change might affect the dynamics and structure of interactions.
〈 RESEARCH GATE 〉    〈 GOOGLE ACADEMIC 〉
CASAGRANDA, Elvira
(PhD fellow at CONICET)
I am interested in studying the influence of land use changes and climate change on high mountain ecosystems. In my doctoral thesis I investigate how Lithium mining affects the resilience of the Argentine Puna and High Andean wetlands to climate fluctuations.
 〈 RESEARCH GATE 〉    〈 GOOGLE ACADEMIC 〉
CASTILLO, Silvio Eugenio
(PhD fellow at  FONCYT)
I am interested in the ecology of plant-animal interactions and their adaptation to different and changing local contexts. My efforts will be put in studying the contribution of pollinators in soybean agroecosystems in the semi-arid Chaco. I will evaluate the diversity and activity of insects on crop production, in relation to landscape variables. I am also interested in exploring the automation of interaction sampling as an alternative method to traditional ones.
   〈 RESEARCH GATE 〉    〈 GOOGLE ACADEMIC 〉
DIP YORDANOFF, Ana Lucía
(PhD fellow at CONICET)
The way in which societies and the environment influence each other has always interested me. For a long time it has been observed that activities such as extensive cattle ranching are decreasing in different regions in northwestern Argentina. This is why, during my doctorate, I set out to study what are the causes that drive these changes in land use, evaluating their costs and associated benefits, as well as the consequence of these changes on the creation of protected areas.
 〈 RESEARCH GATE 〉    〈 GOOGLE ACADEMIC 〉
FERRO FRANCO SOSA, Agostina
(PhD fellow at CONICET)
Environmental problems cannot be analyzed or understood without considering their social context. In this framework, my doctoral study focuses on identifying and quantifying the socio-ecological drivers, both local and remote, of both the use and regime of fire in South America. Subsequently, I will focus on the Argentine Dry Chaco and make an integration of the fire's regime into management reports.
   〈 RESEARCH GATE 〉    〈 GOOGLE ACADEMIC 〉
GONZALEZ, Virginia
(PhD fellow at CONICET)
I believe that cities are very complex and fascinating systems: they include processes with so many social actors, that it seems a challenge to me to try and explain them. Since I was a student, I am interested to get involved in projects that address this system and I hope to continue this line of research in my doctorate. Cities are centers of socioeconomic and political power that have an impact on the global ecosystem. During my doctorate, I will study the eastern slope of the tropical Andes in order to understand the urbanization process of intermediate cities, their driving factors (socioeconomic and biophysical), as well as determining the socioenvironmental impacts and conflicts that arise. In this region cities were founded during a gradual and late process, and their locations were based on distant centers of power near the sea. This gradual foundation allows me to study these cities as a chrono sequence of development and determine where the urbanization process is headed, constituting an ideal model to study the anthropic impact on one of the least known and most threatened systems in the tropics.
 〈 RESEARCH GATE 〉    〈 GOOGLE ACADEMIC 〉
JIMENEZ, Yohana Gisell
(PhD fellow at CONICET)
My research is focused on the study of socioeconomic changes (particularly in the rural-urban interface) that drive the expansion of new forests and their environmental consequences. I am interested in determining how the new urbanization models (counterurbanization) impact land cover changes and influence biodiversity, carbon sequestration, and water regulation.
〈 RESEARCH GATE 〉    〈 GOOGLE ACADEMIC 〉
PLAZA BEHR, Maia
(PhD fellow at CONICET)
My studies aim to contribute to the creation of carbon balance models in forest plantations, in order to analyze the impact of possible future scenarios of land uses. In particular, I will investigate the regional, spatial and temporal dynamics of carbon in the biomass and soil of Eucalyptus spp. plantations in the Uruguay River basin.
I am also interested in the study of changes in ecological processes of Celtis tala forests, associated with both the invasion of exotic tree species and the rehabilitation activities.
 〈 RESEARCH GATE 〉    〈 GOOGLE ACADEMIC 〉
MATIAS, Emiliano
(PhD fellow at CONICET)
In general terms, my main question is how demographic and ecological processes interact. In this context, my Phd study focuses on evaluating the recovery of biodiversity in areas where extensive livestock practices are declining, in northwestern Argentina. This project aims to provide relevant information for land use and planning initiatives in productively marginal areas with a significant relevance for conservation.
   〈 RESEARCH GATE 〉    〈 GOOGLE ACADEMIC 〉
MAGRO, Julieta
(PhD fellow at CONICET)
My main research interest is focused on birds, mainly hummingbirds and their mutualistic interactions with plants.
 〈 RESEARCH GATE 〉    〈 GOOGLE ACADEMIC 〉 
RAMIREZ MEJIA, Andrés Felipe
(PhD fellow at CONICET)
I'm interested in crop pollination, pollination ecology, and mammal ecology. Currently, my research is focused on the patterns and mechanisms explaining the contribution of wild and managed species to the pollination of blueberries in the NOA. Mainly, I'm studying the effect of animal pollination on several productive metrics of the crop, optimal pollination thresholds to maximize blueberry production, and the role of spatial context regulating pollination service delivery within the crop.
〈 RESEARCH GATE 〉 〈 GOOGLE ACADEMIC 〉
RUIZ BARRIONUEVO, Juliana María
(PhD fellow at CONICET)
Plastic pollution is a problem that mobilizes nations and scientists around the world in search of alternatives and mitigation strategies. In recent years, it has been discovered that certain insects are capable of consuming plastic and biodegrading it with the help of their gut microbiota. Although this process does not represent a magical solution to plastic pollution, from a biotechnological point of view it has a lot of potential. I am currently studying wax moth larvae (Galleria mellonella L. and Achroia grisella F.) that can consume and biodegrade plastics. During my Ph.D., I seek to deepen the understanding of this phenomenon: which plastics can biodegrade, how the gut microbiota varies according to diet, and the biological consequences of plastic consumption in the following generations of larvae.
 〈 RESEARCH GATE 〉 〈 GOOGLE ACADEMIC 〉
SARAVIA, Alejandro Nicolás
(PhD fellow at CONICET)
The natural environment and society are two intimately related systems, and their different components interact to produce different outcomes. My specific interest lies in how societies use the land, the motivations for such use, and their ecological consequences. In this context, my doctoral research aims to analyze the social, economic, and environmental causes of land use in Northwestern Argentina, in order to model future land use scenarios and spatialize them.
 〈 RESEARCH GATE 〉 〈 GOOGLE ACADEMIC 〉
TASQUER, Macarena
(PhD fellow at CONICET)
My interest is to observe how climate variability and environmental shocks influence different livestock systems in the Argentine dry Chaco. I will study the strategies of livestock producers to overcome extreme climatic events in different socio-ecological conditions in the region, developing a resilience analysis against droughts and floods.
 〈 RESEARCH GATE 〉 〈 GOOGLE ACADEMIC 〉
THOMANN, María Luz
(PhD fellow at CONICET)
Since I was student I have been interested in topics related to the ecology of seed dispersal and frugivory by birds. In my final thesis I got the chance to research plant-bird interactions in natural and planted forests in the north of the province Corrientes. Later, I was able to continue my studies in a Master's degree, this time studying gulls species of the genus Larus in the Balearic Islands. Currently, my PhD is focused on the evolutionary ecology of seed dispersal mutualisms, specifically taking into account natural selection on seed size in fleshy fruited plants dispersed by animals in central and northern Argentina.
 〈 RESEARCH GATE 〉 〈 GOOGLE ACADEMIC 〉
Lic. ZELAYA, María Josefina.
(PhD fellow at CONICET)
Biology is extremely broad, and researching any branch of it is surprising. Still, ornithology is my area of ​​interest. Studying birds, their diet, behavior, and general ecology is truly exciting. It seems that frugivorous birds seek to achieve a nutritional optimum by mixing complementary foods. However, this can be limited by environmental degradation which affects directly birds diet, and indirectly the nutritional balance obtained by birds after eating. That is why, in my doctorate, I intend to evaluate the impact of environmental degradation on frugivorous birds through changes in the nutritional balance of the diet and indicators of their health.
〈 RESEARCH GATE 〉    〈 GOOGLE ACADEMIC〉