Dr. BENDER, Irene M.A.
(Post-doctoral fellow at CONICET)
Interactions between consumer and resource species are organized in complex ecological
networks. In my research, I aspire to disentangle the largely unknown mechanisms leading to the formation of interaction networks, and improve the understanding of the ecology of mutualistic interactions between species. In my current project, I am testing various factors that influence consumer selection of resources, specifically between frugivores and fleshy fruited plants. I aim to determine the relative importance of the abundance of fruits, nutritional values of fruits, and morphological traits relevant for seed dispersal for the formation of interactions. In addition, I aim to discern to what extend frugivorous species are able to realize their feeding preference in a natural environment.
  〈 RESEARCH GATE 〉    〈 GOOGLE ACADEMIC 〉
Dr.  BERNASCHINI, María Laura
(Post-doctoral fellow at FONCyT)
My main interest lies in the study of ecosystem processes and services that involve insects in agroecosystems. In particular, my postgraduate training focused largely on the study of biological control in the context of landscape fragmentation and climate change. In the course of my doctoral thesis, I addressed the study of the effect of microclimatic conditions on tri-trophic interactions (plant-herbivore-parasitoid) in a fragmented landscape of the Chaco Serrano. During my CONICET postdoctoral fellowship, I evaluated the effects of extreme temperature events on insect pest-biological controller interactions. Currently, I am starting a FONCyT postdoctoral fellowship about natural enemy diversity and the biological control of pests in soybean crops in the Semi-arid Chaco
   〈 RESEARCH GATE 〉    〈 GOOGLE ACADEMIC 〉
Dr.  CEBALLOS, Sergio Javier
(Post-doctoral fellow at CONICET)low at CONICET)
I am interested on forest dynamics and study the ecology of different groups of plants: trees, lianas, and vascular epiphytes. Currently, I am a post-doc student and I am studying the effect of climate change and land-use change on yungas forests of northwestern Argentina. The goal of this project is analyze changes in forest structure and composition of yungas forests, related to different factors such as climate and human activities.
  〈 RESEARCH GATE 〉    〈 GOOGLE ACADEMIC 〉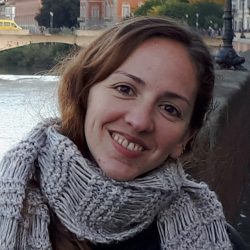 Dr.  FERNÁNDEZ, Romina Daiana
(Post-doctoral fellow at CONICET)
I am mainly interested in studying different aspects of ecology of invasive plants. My doctoral dissertation was focused on the analyses of the mechanisms through which Ligustrum lucidum, an invasive exotic species, locally affects different factors that regulate the litter decomposition, the relative importance of those different factors, and how those factors influenced the decomposition pattern of invaded forests.In my current project I will evaluate the impact of this invasive species in different aspects of functional heterogeneity and its relation to properties and processes of the ecosystem linked to water, nitrogen and carbon dynamics.
   〈 RESEARCH GATE 〉    〈 GOOGLE ACADEMIC 〉
Dr. GANDOY, Facundo Ariel 
(Post-doctoral Fellow at CONICET)
As a birdwatcher, I am interested in all type of aspects of the natural history of birds. However, my research line focuses on the processes of colonization of new environments. This is an area of growing interest due to the increasing change in distribution caused by introductions and climate change. Specifically during my postdoctoral period at the IER I will be studying the colonization case of Barn Swallow in Argentina trying to understand the causes of population growth and the possible presence of micro-evolutionary changes due to the interaction with a new environment.
 〈 RESEARCH GATE 〉 〈 GOOGLE ACADEMIC 〉
Dr.  MANGINI, Giselle
(Post-doctoral Fellow at CONICET)
"Nature is not only composed of isolated individuals or species but rather by a cluster of interactions occurring at the same time. Based in this kind of thinking I was interested in understanding how different bird species interact between them in an association known as mixed flock of birds. I decided that understanding how different bird species interact between them to obtain benefits was the first step in achieving the utopia of humanity relating positively to other species. Thus, after my doctorate I continued to investigate mixed flocks of birds to understand how the effects of habitat loss influence the delicate relationships between bird species that inhabit the Yungas forest environment in Argentina"
  〈 RESEARCH GATE 〉    〈 GOOGLE ACADEMIC 〉
Dr.  NANNI, Sofia
(Post-doctoral fellow at  CONICET-CREA)
Mis principales áreas de interés incluyen la ciencia del uso del territorio y de la conservación;
y los puntos de encuentro entre ambas disciplinas. En mis proyectos a corto y mediano plazo analizo las consecuencias de distintos usos antrópicos sobre la conservación de mamíferos medianos-grandes y las interacciones entre estos y los humanos a través de proyectos en el Chaco Seco, Yungas y Puna.
Me interesa especialmente compronder los factores que promueven la coexistencia entre humanos, usos antrópicos y este grupo de especies.
 〈 CV 〉    〈 RESEARCH GATE 〉    〈 GOOGLE ACADEMIC 〉
Dr.  NAVARRO, Carlos
(Post-doctoral Fellow at CONICET)
Topics of interest are: Botany. High Andean Ecosystems. Impact of herbivory on peatland dynamics. Conservation biology. Climate change. Land use. Spatial ecology and positive plant-plant associations in the Monte of Argentina.
   〈 RESEARCH GATE 〉    〈 GOOGLE ACADEMIC 〉
---
Mg Sc.  CASAGRANDA, Elvira
(PhD fellow at CONICET)

I am interested in studying the influence of changes in land use and climate change on high mountain ecosystems. I am currently researching how Lithium mining affects the resilience of the Argentine Puna and High Andean wetlands to climate fluctuations.
   〈 RESEARCH GATE 〉    〈 GOOGLE ACADEMIC 〉
Lic. CASTILLO, Silvio Eugenio
(PhD fellow at  FONCYT)

I am interested in the ecology of plant-animal interactions and their adaptation to different and changing local contexts. My efforts will be put in studying the contribution of pollinators in agroecosystems in the semi-arid Chaco. I will evaluate the diversity and activity of insects on crop production, in relation to landscape variables. I am also interested in exploring the automation of interaction sampling as an alternative methodology to traditional ones.
   〈 RESEARCH GATE 〉    〈 GOOGLE ACADEMIC 〉 
Biol. CHIAPPERO.  María Fernanda 
(PhD Student FONCYT)
I am interested in understanding the mechanisms involved in soil processes and how land use changes can affect the functioning of this system. The aim of my thesis is to determine soil carbon stock in high Andean peatbogs under different herbivory patterns and, in the context of climate change, to evaluate carbon storage sensibility in face of raising temperature estimated in the research area.
〈 RESEARCH GATE 〉    〈 GOOGLE ACADEMIC 〉
Lic. JIMENEZ, Yohana Gisell
(PhD fellow at CONICET)
I am interested in the impact of changes in soil cover on ecostémic services (ES). During my doctorate I will investigate the spatio-temporal dynamics and balance between ES of regulation and ES supply according to changes in land uses in the Lules river basin.
〈 RESEARCH GATE 〉    〈 GOOGLE ACADEMIC 〉 
ENGINEERING FOREST. PLAZA BEHR, Maia
(PhD fellow at CONICET)
My studies aim to contribute to the creation of carbon balance models in forest plantations to analyze the impact of possible future scenarios of land uses. In particular, I will investigate the regional, spatial and temporal dynamics of carbon in the biomass and soil of Eucalyptus spp. Plantations. in the basin of the Uruguay River.
I am also interested in the study of changes in ecological processes of Celtis ehrenbergiana forests, associated with both the invasion of exotic tree species and the rehabilitation activities
 〈 RESEARCH GATE 〉    〈 GOOGLE ACADEMIC 〉
Lic. MAGRO, Julieta
(PhD fellow at CONICET)
My main research interest is focused on birds, mainly hummingbirds and their mutualistic interactions with plants.
 〈 RESEARCH GATE 〉    〈 GOOGLE ACADEMIC 〉 
Mg. Sc  RAMIREZ MEJIA, Andrés Felipe
(PhD fellow at CONICET)
I am a biologist interested in studying the mechanisms that mediate the response of fauna to the transformation of the environmental, and its relationship with its ecosystemic function. In particular, to examine my questions I have used mainly vertebrates as models. During my doctoral thesis I will investigate the reciprocal effects between native forest of yungas and cultivated highbush blueberry, Vaccinium corymbosum, in terms of plant-animal interactions.To do so, I will evaluate the possible effects of the competition for pollinator  between the crop and native plants, in relation to landscape variables at different spatial scales.
〈 RESEARCH GATE 〉 〈 GOOGLE ACADEMIC 〉
Lic.  RUIZ BARRIONUEVO, Juliana María
(PhD fellow at CONICET)
Plastic pollution is a problem that mobilizes nations and scientists around the world in search of alternatives and mitigation strategies. In recent years, insects have been found capable of consuming plastic and degrading it with the help of their gut microbiota. While this does not represent a magical solution to plastic pollution, from a biological point of view it is a very interesting process. I am currently studying wax moth larvae (Galleria mellonella L. and Achroia grisella F.) that consume and degrade plastics. During my Ph.D., I seek to deepen the knowledge of this phenomenon: which plastics they can degrade, how the intestinal microbiota varies according to diet, and what biological consequences plastic consumption has on the following larva generations.
 〈 RESEARCH GATE 〉 〈 GOOGLE ACADEMIC 〉
Ing.  TASQUER, Macarena
(PhD fellow at CONICET)
My interest is to observe how climate variability and environmental shocks influence different livestock systems in the Argentine dry Chaco. I will study the strategies of livestock producers to overcome extreme climatic events in different socio-ecological conditions in the region, developing a resilience analysis against droughts and floods.
〈 CV 〉 〈 RESEARCH GATE 〉 〈 GOOGLE ACADEMIC 〉
Lic. THOMANN, Maria Luz
(PhD fellow at CONICET)
Since I was student I have been interested on topics related to the ecology of seed dispersal and frugivory by birds. In my degree thesis I got the chance to research on plant-bird interactions in natural and implanted forests in the north of the Corrientes province and later I was able to continue my studies by doing a Master's degree, this time studying gulls species of the genus Larus in the Balearic Islands. Currently, my PhD is focused on the evolutionary ecology of seed dispersal mutualisms, especially taking into account natural selection on seed size in fleshy fruit-producing plants dispersed by animals in central and northern Argentina.
 〈 RESEARCH GATE 〉 〈 GOOGLE ACADEMIC 〉
Mg. Sc. ZARBÁ, Lucía
(PhD fellow at CONICET)

I work in systems ecology, especially with dynamic models. My topics of interest include socio-ecological interactions, land use change, emergy analysis, management and environmental impact.
 〈 RESEARCH GATE 〉    〈 GOOGLE ACADEMIC 〉
Lic. ZELAYA, María Josefina 
(PhD fellow at CONICET)
Biology is extremely broad, and researching any branch of it is surprising. Still, ornithology is my area of ​​interest. Studying birds, their diet, behavior, and general ecology is truly exciting. It seems that frugivorous birds seek to achieve a nutritional optimum by mixing complementary foods. However, this can be limited by the degradation that impacts directly on their diet and indirectly on the nutritional balance obtained after eating. That is why, in my doctorate, I intend to evaluate the impact of environmental degradation in frugivorous birds through changes in the nutritional balance of the diet and indicators of their health.
〈 RESEARCH GATE 〉    〈 GOOGLE ACADEMIC〉